Lifestyle Medicine
Eighty percent of the major diseases that kill us can be prevented or at least delayed by lifestyle modification, involving diet, exercise, stress management, sleep, relationships, and avoidance of health destroying habits (smoking, excessive alcohol, prolonged inactivity) and toxins.
So why does modern Western Medicine focus so much on treatment of disease, by which time the best chance for lifestyle modification have been lost? That's a complex question to answer. We believe it is partly Western Medicine's extraordinary successes in treatment or formerly fatal conditions that leads us all to a feeling of complacency in our life choices - that even if we mess up our lifestyle and diet, modern Western Medicine will be there to save us. Doctors focus on, and become ever more skilled at, salvage of desperate people suffering diseases and chronic health problems, but this is not "healthcare". It is "disease-care", and it represents a failure of real healthcare!
At Mosman Integrative Medicine, we are expanding our focus from assessment and treatment of complex illness to building positive resilient health. Dr Mark Donohoe attained Fellowship of the Australasian Society of Lifestyle Medicine (ASLM) in 2018, and we are building a team to make that expertise available to all our clients and their families.
As we build our team, you can now book to see Dr Mark not only for medical problems, but to access a broader range of views on health and prevention. Our goal is to move beyond simplistic medical approaches to your needs, and build a broader path to recovery and optimum, resilient health.
Kate O'Flynn brings over 20 years experience as a naturopath and health coach to our team, with skills in the areas of nutrition, therapeutic diets, herbs and supplements, and diagnostic testing outside the standard pathology and radiology mainstream. She provides a broad range of skills and provides health coaching in consultations, or over the phone or by FaceTime or Skype. This is a great way to keep on track, especially with dietary interventions or accessing supplements or treatments that may be difficult to find and maintain. Kate is the usual person for contact between your appointments with Dr Mark. Kate is also available for consultations directly at MIM, with or without Team involvement.
Fiona Donohoe-Bales is Mark's life partner, and has been the heart and spirit of Mosman Integrative Medicine from its first days of planning in 2015. Fiona brings 25 years of experience in prenatal yoga (and a thousand happy healthy yogi-babies) and yoga therapy, as well as mindfulness, meditation, psychotherapy, counselling and Qi Gong. Fiona is also available for counselling, and one-on-one consultations in these areas at MIM, with or without Team involvement. She is building online resources for MIM clients, such as meditation and mindfulness recordings, and access to curated services and products both within and outside MIM.
Now that MIM is moving "Beyond Medicine", we are also moving beyond disease care. We have between us over 80 years of Clinical experience and awareness of what works and what does not to reduce illness and suffering and to optimise health and function. We are curating the best of the products and services and knowledge to provide these to our clients through a combined approach that we think is unique and an improvement in every way upon conventional medical approaches.
And we plan to grow that approach and our team of practitioners over the next three years to make Mosman Integrative Medicine your first point of contact for building a healthy and resilient life. We want to become your trustworthy provider of information and advice for recovery and for resilient good health.
Come join us!
Prevention
Prevention is the heart and soul of Integrative Medicine. Yes, as doctors and we are well trained in identifying diseases in treating symptomatically to relieve suffering. But that is only step one.
We need to look at the diseases and illnesses not only as enemies to be defeated, but as starting points for prevention and the rebuilding of good health after illness. Chronic and complex illnesses tend to diminish vitality and reserves of even the strongest person, and we have a responsibility to take those people back to a level of health which will sustain them for the years or decades ahead.
It is sad but true that we doctors miss this opportunity more often than we seize it, and the effect is that we turn sick people into patients-for-life. One could cynically argue that this is the business model of medicine, but I don't believe that for a second. Doctors are inhibited from taking this final step with their patience because of the very Medicare system that we work within in Australia.
While Medicare does a great job in making disease care affordable to all Australians, it is not a health-care system. It is a disease treatment system. Patients do not receive rebates for screening test or preventive medicine beyond a few simple diagnostic procedures. Prevention is seen as something that each individual should carry out without any knowledge of their own vulnerable areas.
In my practice, when diseases and disease processes are identified and treated in one individual, attention turns not only to that individual and their long-term sustainable management, but to other family members who share genetics and environment with the target patient, and sometimes even to co-workers when there is an occupational contribution.
Prevention is the highest level of the art of medicine, but it is also the most difficult and the hardest to prove. Taking a sensible approach of identifying one's personal risks, genetic weaknesses, and biological strengths, a programme involving diet, lifestyle, exercise, sleep and supplementation can make significant differences to quality of life in the short term, and are most likely the types of things which will extend one's healthy years while beyond their current trajectory.
Complex illness
"Complex illness", sometimes called "medically unexplained illness", has proven one of the greatest unmet challenges of western orthodox medicine in the past century. We doctors have been very good at diagnosing single-cause and single pathology diseases and prescribing drugs which diminish the symptoms of those diseases, and occasionally cure them. These drugs work quickly and predictably, and result in symptom control very rapidly.
Most of them, however, cannot be sustained as the adverse effects of the drugs become apparent over time. In many of these cases, drug therapy becomes a cause of persistent symptoms and disease, and doctors will often add more drugs to control those symptoms as well. The effect over time is that a person who is sick is unable to navigate their way back to good health until they stop the medications that steal this very capacity from them. They are not in a position to make a judgement on which drugs can be ceased and which ones cannot be. Patients frequently stop drugs that they do need or continue on with medications that have long ago become unnecessary and potentially dangerous.
These complex illnesses are only "medically unexplained" because no one has taken the time to put the entire medical history, family history, medication regimen, and dietary and environmental factors together to make sense of the chronic ongoing symptoms.
This is one of the advantages of having a few hours to devote to each initial consultation. It is also the reason I ask each new patient brings much of their medical history pathology test results as possible. In most cases, the chronology of the illness and the treatments given for the illness expose the causes and contributions to complex illnesses, and provide clear therapeutic options, including the cessation or reduction prescribe medications that may be contributing to ongoing health problems.
This process of ceasing prescribed medications should not be undertaken without professional medical oversight, and all changes to medications need to be with the agreement of all treating doctors. The same is true for ceasing ever-changing complementary medicines, and for defining potentially harmful interactions between drugs and complementary medicines.
My training for this process of reduction of unnecessary or harmful medications began at Lidcombe Hospital in the 1980s. The medical registrar I worked under her passion for safely ceasing unnecessary medications when a person was first admitted to hospital. On average, more than half the medications were found to be unnecessary, and a simple cessation of those drugs resulted in significant clinical improvement, often sufficient to see the person back home within days.
The unravelling of complex illnesses requires a deep understanding of the person's genetic predispositions, their environment and diet, occupational factors, the adverse impact of medications (including vaccines), and identification of stresses such as infection, sleep disturbance, and lifestyle factors that may be perpetuating the illness.
The GEMINI system I have developed to understand and address these areas provides a framework for the consultation and for the therapeutic decision-making that follows. Some patients need less treatment, not more! And for some people, complementary medicines and dietary approaches are sustainable and superior alternatives to potent but unsustainable drug therapies.
CFS/ME and FM
Chronic Fatigue Syndrome / Myalgic Encephalomyelitis (CFS/MA) and fibromyalgia (FM) are closely related and severely disabling illness that have proven extremely difficult to treat. Despite nearly 20 years of research, no consensus has emerged on the cause or treatment, and the understanding of these conditions remains frustratingly elusive.
Even management programs have proven controversial and not broadly applicable. Graduated exercise programs and CBT, though widely touted as "evidence-based" are unhelpful for most of the patients I see. Graduated exercise program research was conducted only on the small subset of sufferers who were able to engage in such a program (arguably the less severely affected). The results of its forced use in people with severe CFS/ME and fibromyalgia has more frequently been a worsening rather than in improving symptoms of the condition.
Cognitive behavioural therapy (CBT) has had an unfortunate history of never being scientifically validated, and its application in these conditions have been poorly formalised and inconsistently implemented. CBT has proven to be, like a good prostitute, whatever the practitioner wants it to be :-) It has helped some people, but fortunately it is now being displaced by traditional and far more useful practices such as mindfulness and meditation.
Do I have CFS or ME
For nearly 20 years, CFS/ME has been defined as persistent and disabling fatigue of more than six months duration, for which no other medical cause is found. As well, the person must suffer four or more of the following symptoms that are concurrent, persistent for six months or more and which did not predate the fatigue: impaired short term memory or concentration; sore throat; tender cervical or axillary lymph nodes; muscle pain; multi-joint pain without arthritis; headaches of a new type, pattern, or severity; unrefreshing sleep; and post-exertional malaise lasting more than 24 hours.
One emerging view is that the "old" term, myalgic encephalomyelitis (ME), may have been closer to the mark than anyone suspected. For people with severe post-exertional fatigue and for patients with fibromyalgia there is evidence of neuroinflammation with alterations of grey matter identified in nuclear medicine scans and other imaging techniques. This is a low grade, long-term inflammation involving the microglia, immune-like cells that surround and nourish and protect the actual nerve-cells (neutrons) of the brain.
Recognition of the seriousness of these disorders, and the biological and neurological consequences of failing to take them seriously, has led the US FDA to nominate CFS/ME as a significant disease, and state:
"CFS/ME is a serious disease and there are no approved therapies indicated to treat CFS/ME. The lack of approved therapies indicated for the treatment of CFS/ME represents a public health concern"
My Practice is strongly focused on CFS/ME, and my approach is to break the illness down into manageable segments by addressing genetics, environment, the gut microbiome, inflammation, nutrition and ultimately the support and active treatment of the sufferer and improvement of function and resilience (see GEMINI).
I presented an outline of my approach to Toxicity in CFS at the 2014 AIMA Conference, which you can see in this video.
AMA Title page
AIMA 2014 Sydney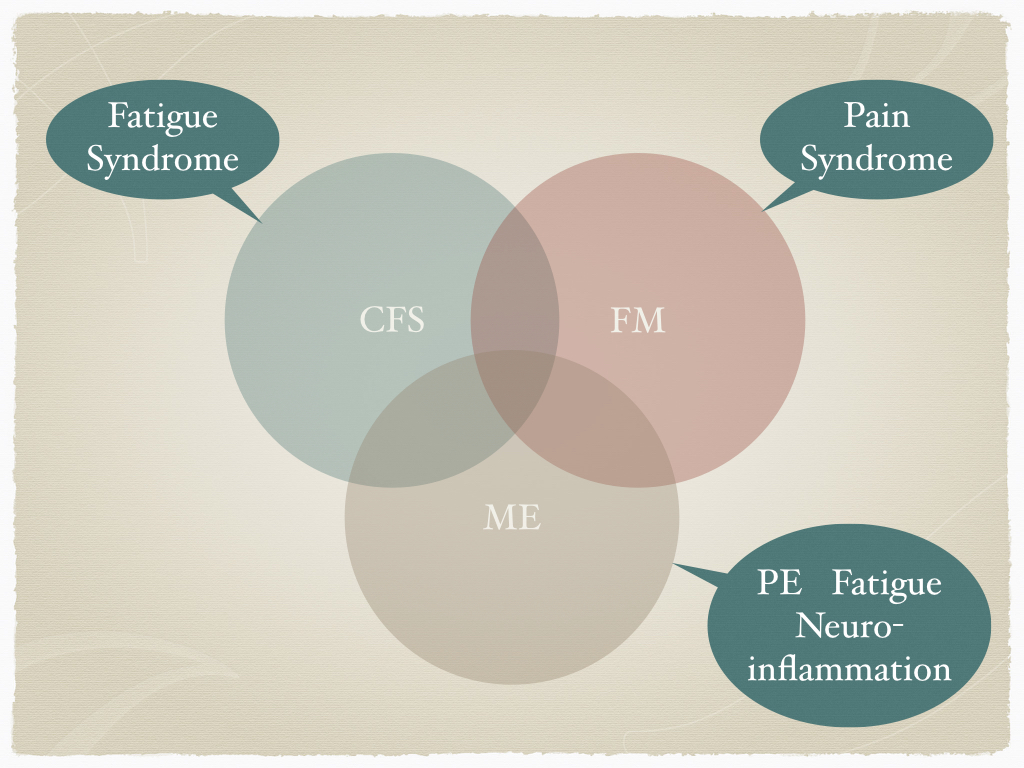 Chemical sensitivities
Chemical sensitivities, also known as multiple chemical sensitivity (MCS), is a particular variant of heightened responsiveness to sensory input. Many of the patients that I see are sensitive to light, sound, touch and taste, but for the majority of the symptoms triggered by exposure to even very low concentrations of solvents, pesticides and other volatile chemicals is disabling and a never-ending.
MCS is a medical condition was Identified by US Occupational Physician, Mark Cullen in the late 1980s, and defined in 1999 as [1] a chronic condition [2] with symptoms that recur reproducibly [3] in response to low levels of exposure [4] to multiple unrelated chemicals and [5] improve or resolve when incitants are removed with [6] symptoms occur in multiple organ systems. (Arch Environ Health 1999 May-Jun;54(3):147-9)
I was involved in the MCS Consensus Conference in San Francisco in 2006 where an alternative diagnostic checklist was considered and agreed upon in principle. The checklist was tested by clinicians in four countries and shown to have specificity and sensitivity above 85%. The draft of the MCS Diagnostic Checklist remains a useful determinant of both the presence of MCS and the severity of its impact on a person's life.
More than a decade ago, I wrote a simple book, Killing Us Softly, addressing multiple chemical sensitivity, likely causes, and the lessons we have learned from our controlled-environment inpatient-hospital unit, the Special Environment Allergy Clinic, in Sydney between 1989 and 1994. In that period we treated over 300 people with chemical sensitivities, and learned valuable lessons about chemical detoxification ("depuration"), and the necessity to protect the person nutritionally and biochemically prior to detoxification.
My book is available here under Creative Commons free access, and while I have not updated it in some years, many people continue to provide positive feedback, suggestions, and support from my writing. (Creative Commons Restrictions: This publication is free to be copied, transmitted or distributed without charge or cost to any recipient.)
I think what is now clear is that neuroinflammation and glutamate excitation our impact triggered by chemicals entering the central nervous system through the olfactory bulb, and that these contribute in part to the inflammatory process. This should not be surprising, given that the chemicals used as pesticides, solvents, petrochemicals, antiseptics and plasticisers (to nominate just a few) are toxic and largely untested in humans.
My approach with chemical sensitivities is to minimise exposure to chemicals that trigger reactions, to use inexpensive alkali salts ("bi-salts") to control symptoms following chemical exposure, to use medical oxygen when necessary, and to focus efforts on the reduction of responsiveness of both the olfactory and the trigeminal nerves and the reduction of neuroinflammation and the countering of the glutamate "storm".
Using a variety of methods such as these, it is usually possible to bring a person back to a level of responsiveness compatible with normal day-to-day life, although great care needs to be taken to not ignite the symptoms by accidental and unnecessary exposure to the same types of chemicals in the future.
Autoimmunity
100 years ago the main issue faced by doctors was how to prevent infectious diseases from harming and killing their patients. As age progressed, and people weakened, they were often unable to mount immune responses strong enough to be able to defeat the infections.
Fast forward four generations, and one of the biggest problems we doctors now face is controlling aggressive inflammation to prevent chronic diseases such as arthritis, heart disease, inflammatory bowel disease and neurodegenerative diseases like Parkinson's disease and Alzheimer's.
There is an emerging evidence that many complex chronic diseases, including chronic fatigue syndrome, have strong autoimmune components to them. Autoimmunity means that a person's immune system turns against them, causing damage to almost any organ in the body by a process of uncontrolled inflammation. The immune system has become too aggressive and the fine level of control needed to defend ourselves against invaders while doing no harm to ourselves is impaired.
Many of the drugs we have used in the past to control inflammation – drugs like cortisone and non-steroidal anti-inflammatory drugs – have significant problems of either suppressing and impairing the adrenal glands, or damaging the gastrointestinal tract often leading to severe bleeding.
The gut is in fact intimately involved in this process of autoimmunity, and the smart money is on managing the diet and gut microbiome to diminish inflammation. This frequently involves the use of fermented foods and probiotics, and some dietary restrictions (gluten especially) to put out the fire of autoimmunity.
Improving the intake of omega-3 fatty acids, whether through diet or supplementation, is of immense long-term benefit in the control of inflammation for most Australians. Other simple dietary choices and certain supplements specific to the type of autoimmune disease can also change the course of these progressive debilitating disorders.